NOTHING BUT LEAVES
Remember the fig tree that Jesus cursed...
on His way to Satan's defeat?
'That' creation knew that The King was coming...
but refused to give Him to eat.
I use to think: "How fair was that?"
"It wasn't the season for figs!"
Then, I remembered: Be instant in (His) season!
Do I dare start thinking that big?
Did He come only to rescue one part of creation?
No! He came to rescue it all!
Didn't He prove, when He walked on the water...
God's purpose supercedes natural law?
We quickly agree, when our physical eyes see...
the 'magic' that The Lie has produced;
Yet, He said that The Greater One dwells in you...
and you're here for far greater use...
not to consume this to your own lust;
So important and the reason that I must...
find out exactly why I am here;
When I know that, there will be no thing to fear!
The mountains and the giants might paralyze me...
but, He said that He came to set all captives free.
Then, He showed this supernaturally ...
when His 'trained ones' continued that physically.
You do well to separate yourself unto Me...
so you can continue Our intimacy;
Search My Word diligently...
so that My Heart in each matter is all that you see.
If you compromise, know that I will not;
Don't believe The Lie, that I forgot...
that you are My child and don't matter to Me;
I have for you My Big Victory!
Pull up those stakes that keep physical eyes...
bound to Earth;
See with My Eyes so that I can be birthed!
I gave this to you so My Kingdom can come;
You now stand here on Earth as My holy one.
Every Word written; Every act defined...
so you will walk with Me all these moments in time;
Did I not say that you have My Mind?
Instant 'in' and 'out' of season is what you will find!
I AM your real security;
Let each edifice you build represent Me!
How do I do that? Hear what I say!
Responding to Me, makes you stronger each day!
Your confidence can come from no other place;
I have chosen you to 'see' face to Face...
not thru the 'cloudy dark glass' as before;
You're a new creation; A kind as never before...
to walk this Earth with great expectation;
Ask Me; I'll show you this revelation!
A good day to know this; on Halloween;
Pull back the veil so the spirits will be seen...
and rescue the one's that casually...
have been lulled into this complacency;
I've equipped you with The Full Armor of Me;
You can bind these deceptive enemies...
that have decreed they'll invoke on their holy day...
that your Lord isn't greater and can't have His way!
Time for The Sword, that is in your hand,..
to cut off these forces from our Kingdom Land!
And, all the other days, as well...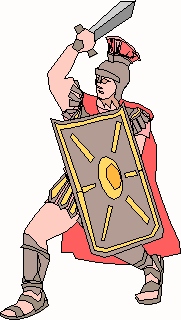 to loose and set free their captives for Hell.
October 3lst, 2006