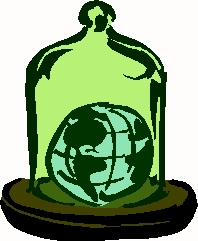 COMPROMISE
Thereís a poisonous venom taking our land,
that Godís Spirit has clearly seen;
A fog of offenses with hatred, despair;
Satanís banner; a brilliant green.
It seems so harmless with candy and treats,
on this his most holy day,
Yet, ďcompromiseĒ is one of the words
I heard my Father say.
This poison venom, thatís setting a coarse,
will soon remove its cloak.
Why would I choose to offend my Lord,
when I know itís a demon Iíve stroked?
Itís exciting; Itís fun and what can it hurt?
Itís hurting you, My one.
Your powerís depleted by your own choice,
as you walk with Satanís sons.
Is he not bold in his deception,
even to wearing disguise?
But some are cute, like bunnies and angels.
Your compromise makes them quite wise.
He will shed his costume, and youíll wonder why,
you canít get on top of My Way.
You gave him My power, reserved just for you,
on Satanís most holy day.
When it comes to My day, you donít pursue
with enthusiasm like this.
Your stubborn lordship, to do it your way,
is stronger now to resist.
Why donít you throw aside all of this nonsense?
If youíll turn to Me, I will hear.
Let Me love you right out of this place and youíll see,
With Me, you have nothing to fear.
Youíve chosen every hard thing in your life,
with Satanís deception, of course,
But you know I Am stronger and longing for you,
in this land where there is no remorse.
Oh, yes, thereíll be pain, as Iím training My child,
but only the leaving your way;
This isnít a pain that kills and rips,
where his demons want you to play.
Iíll turn your pain now, to build your good,
this exercise thatís from Me;
The hardened poison that was plugging the flow,
so that all of My blessings youíll see.
Iím not going to fool you, this way that we chose,
will take your total commitment,
but I guarantee, that I will be there,
And, together, Weíll walk right on thru it.
Now, donít push this on to eternity future,
of course, We will be there too;
But what Iím talking is right here and now,
in this life with My lovely you.