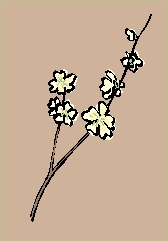 ANTICIPATE
IT WASNíT COMPLETE; I DIDNíT WAIT;
WHY DO I KEEP TRYING TO OPEN ĎTHE GATEí
THAT ONLY RESPONDS TO MY LORDíS MIGHTY HAND;
HELP ME TO WAIT AND TO UNDERSTAND.
SOMETIMES WAITINGíS THE STRONGEST ACTION;
TO PROTECT ME FROM BEING LORD.
MY FLESH REALLY FIGHTS ME AND YELLS AND SCREAMS;
AND SAYS, IíM SO VERY BORED.
IT ALWAYS PRESENTS A SUBSTITUTE, ANYTHING TO BE APPEASED,
BUT, THEN I REMEMBER, YOU CANíT RULE ME;
ITíS MY LORD I WANT TO PLEASE.
I WONDER WHERE THAT THOUGHT CAME FROM,
AS IíM FIGHTING THIS RAGING BATTLE;
IT MUST BE CHRISTíS MIND THAT IíM THINKING WITH
AND NOT SATANíS FOOLISH PRATTLE.
THIS STARTS TO SCARE ME THAT IíM SO FAMILIAR
TO SATANíS FOOLISH WAY;
I GO BACK TO THE MIND THAT SPOKE BEFORE;
TO HEAR WHAT HE HAS TO SAY.
THEN I HEAR, RELAX, DONíT WORRY, IíM WALKING YOU OUT
OF THIS FAMILIAR PRISON;
EVERY PLAN YOU MAKE IS IN MY HEART;
AND TOGETHER WE HAVE RISEN.
NOW, LETíS DO SOMETHING TOGETHER TODAY;
THAT WILL HELP YOU ENJOY THE WAIT;
AND IN THE DOING, YOUR RESPONSE WILL RUN HIGH;
AND WE WILL ANTICIPATE!!!!!!!!!!!!!