Time to let His flowers bloom: Heíll be back to pick us:
Sometime Soon!
I think, until I realize, the magnificent greatness of You;
Every time that You move thru me, I will try to add to;
Rather than simply, just letting You, (of which many others will see)
Humility dies; Then, I justify manís swelling psychology.
A major form of unbelief; that keeps my mind cluttered with no relief...
to actually walk and experience to see:
The greatness of all that Youíve done for me.
I thought that this was the whole idea:
Responding to that kind of Love;
Inheritance follows; Expectationís completed;
Materialized from above.
Where then, is response to that kind of Love,
If, before I walk out the door,
Iím finding myself checking a list;
The length of which, hard to ignore?
Try that in bed; Here comes divorce!
Just like making love to a corpse!
Iím starting to see unbeliefís subtlety;
(Controlling fingers of that Beast)
It wonít let you rest; Itís a cloning a God;
Sowing his seeds of unbelief.
God has reconciled us to Himself
and committed to us that same ďwordĒ;
I now am ďright beingĒ, re-created in Jesus!
The best news that Iíve ever heard!
To actually say to someone that is trapped:
ďIt will be alright; Jesus paid for that.Ē
When that kind of Love hits them and me, too,
then, we will see what His Spirit can do.
But we donít usually wait for His Spirit to do,
what He said that Heís done for me and them too.
So, just in case, we pull out our list;
Take The Spiritís job and come to the assist.
What would happen, I wonder, if I just ďlivedĒ,
believing all that He said;
Would the chains fall off at my expectation
and inheritance follow instead?
I think, if honest, Iíd have to say:
I donít believe that, in a significant way!
Oh, I believe that He actually said it;
After all, itís straight from His Word;
This, of course, is why He said itís good news;
Itís the best news that Iíve ever heard!
Walking out the door with that expectation,
and leaving my list behind,
is to resurrect to abundance of life...
that treasure, He wants me to find.
Well, thatís my plan for the rest of the day:
To raise me from the dead and prove all that You say.
Will this manifest? He said that it would;
So, today I walk free like He said that I should.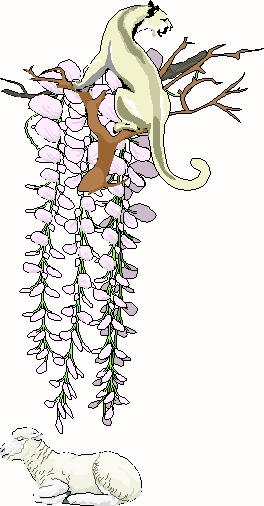 March 29th, 2005
March came in like a lamb
So, as it leaves,
Letís see what His Lion
wants to conceive!
April is just around the corner;
Itís time for His flowers to grow;
He said, Iím His planting;
Itís time to bloom
with seeds Heís already sown.