A Vision Interpreted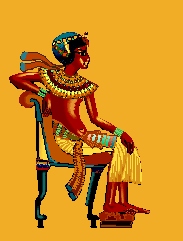 I saw a being sitting on a throne
that thrived upon admiration;
His vicious armies were sent near and far
to steal from every nation.
The bounty was laid at this great beingís feet,
for his approval or rejection;
Among these trophies was a human child
that had been destined for resurrection.
The puppet king thought: I will raise this child
and make him just like me,
because I have heard these humanís have power...
and he wonít know that he isnít free.
I will pamper and feed him with my kind of food;
not meant for the human species;
Iíll keep him within the gates of my palace;
So, of course, heíll desire what he seeís.
Thatís all I must do, is make him want it,
and then his power is mine;
When he is dead, I will steal another;
The younger the better, I find.
Theyíre more easily formed for me to use
(and one represents many thousands);
They donít even know theyíre being abused;
My kingdom has greatly abounded!
Theyíll be resurrected; Thatís the future of them;
But, with all of their choices, Iíll see them again!
I must keep them within all of my confineís
and not let them roam in the fields;
Reports have come back that a treasureís been hidden,
to give these humans great yield.
Iíve dug up half of the earth to find it;
I donít think itís really there;
but, just in case, Iíll keep them by me;
so confined that they really wonít care.
For them to sell all, when they have it right now...
and worse, give it all away;
The only way that they could do this is,
believe my enemyís way...
And do you think that will really happen?
Well, It hasnít happened so far;
At least, not in any significant numbers
Most still carry my scars.
Those religious humans, I really love;
Theyíve kept them so encumbered
with all of the things the others should be;
Because they donít know theyíre infected by me and...
that their throne operates just like mine;
They, too, have made slaves out of most of mankind!
February 6th, 2005
Birthed from: Five A.M. Monday Morning Lesson #13