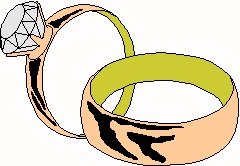 ABOUT MARRIAGE
It wasn't by works that I have done;
I often walk when I should run;
And then I run to try to be,
what will secure my destiny.
When I become so tired of waiting;
I indulge myself in foolish debating;
Rather than letting it simply appear
that He paid for me, so there's nothing to fear.
As I'm learning how to say, "Yes" and "No",
being trained by His loving hand;
If my feet aren't standing on this foundation;
Like He said, It's sinking sand.
I see this a lot in marriage, this way,
as well as mine from yesterday;
A "right" and "wrong" that supercedes,
the Jesus in him and the Jesus in me.
At what great cost this tangled mess;
To demand from others their own strength's best.
Talk about killing intimacy;
He didn't deal that way with me.
Could this be the response that He wants me to see,
with the man that the King forgave all?
Is my lack of intimate trust of Him,
the reason that children fall?
A generator produces power
to operate a whole house;
Then, He said in Titus, Three:
That is the washing reinstated in me.
What then produced is His powerful Spirit,
residing in me: His house;
Perfectly justified by His grace:
An heir, His child and His spouse.
Lord, forgive my choice of stupidity;
We fail for lack of knowledge;
It's time for me to graduate
and go on to Your chosen College:
The inscription above the magnificent door reads:
THIS PLACE PREPARED BY ME;
The diploma, I will place in your hand;
That where I Am, you'll be.
This is going on right now
in all of your situations;
This is how We will take the land,
with your great anticipation.
No! It isn't too late or too complex:
Shore up your foundation;
I'll do the rest!!!
You study; It will show that you are approved:
A notable force that can't be moved!
Out of this training comes intimacy;
I'm pleased you believed when you couldn't see;
By 'seeing', of course, I mean, tangibly;
It's your choice of this, brings reality.
Your choices of this will manifest
into your complete persuasion;
Then I can come inside of you;
with My complete invasion.
Together, as One, Our domain will conquer
every opposing force;
Does this better help you understand
My thinking about divorce?
Only religious legality
can pursue this kind of travesty;
The issue really isn't 'divorce';
There must be a 'marriage' first;
Not everyone can hear this truth,
caught up in the cares of this Earth;
BUT, I've captivated more than one's way,
that's decided to hear what I have to say:
MY VALUE; MY HEART; MY TOTAL PLAN
IS TO BRING MY INTIMACY TO MY PRECIOUS MAN!!!!!