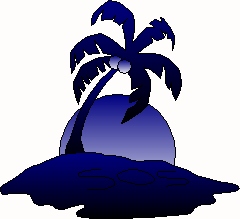 The Ultimate Vacation
This city we look for,
that's been promised to us;
whose Builder and Maker is God;
A sure foundation;
The place of His dwelling;
framed out with His substance of Love.
The Devourer would often
steal this from me;
this actual place that my eyes can see;
But he just can't get passed my Jesus blood:
The foundation's mortar that disperses all floods.
If you're only hoping that this is true;
His Kingdom on earth may not be for you.
The results are real and tangible;
That, humane strength can't take you to.
But, if you want to go there;
Show worth for His price;
Believe Him and do each spoken advice.
Now let's talk fact; Here's the way it is;
You trust yourself more than what He says.
Abraham moved and started looking
for what God had said to appear.
It seems all of his choices were based on this;
Else, respond to the circumstance' fear!
We've been so busy protecting our lives;
A sure way, He says, to loose it.
Why so hard to do what He said;
with wholeness presented to choose it?
And "greater things" than these shall ye do;
His promise in Chapter Eleven, Hebrews;
Further saying, His provision He has secured;
Because He's with Father, whom He has made yours.
Well, what "greater things"than He did can I do?
You could ask Him to show you
from His point of view.
Could it possibly be the authority,
to set up My Kingdom physically?
Are these steps a way to even be found?
Is my great understanding what's keeping me bound...
To call it 'wisdom' when I rarely apply
to my personal life and justify
my way over Yours and ask You to do.
Does my refusal to listen, make me lord over You
and then add to the offense, when I question Your way;
Thus, intimate, You don't do what You say?
That road of deception is harder to live
than "selling all" so that I can give
all that I have earned and follow You
to the "greater things" You promised You'd do:
To bring into reality all that You've done;
For Yourself and for me so that We can be one.
I believe You've been waiting to give Yourself birth,
in me, My Lord, to show Your great worth...
In the heart of me and all of Your others;
Like You said, Singing praises
in the midst of Your brothers.
What a breathtaking time to actually be
in that realm with Jesus singing praises to me!
Rejoicing together because We've finally birthed
His place of dominion, right here on this earth!
Talk about exciting ecstacy,
trampling under foot all enemies,
that don't have our power to steal anymore;
because we passed through that Beautiful Door!...
into His Kingdom that's come to me;
Our will's dancing daily for all to see!
Is it worth the labor to enter His rest?
Your spirit resounding a positive, "YES!"
Let's go to this place that's prepared for us;
The time is now; His Kingdom or bust!!
You've taken My Hand and you're half way there;
I will lead you out of this land of care;
There's peace and quiet and excitement too;
This is the 'vacation' I've prepared for you!
It isn't leaving; anyone can do that;
It's making adjustments to bring into fact;
All that's been waiting to burst into being;
This Kingdom of Love; This City of Healing.
You've been challenged with mountains
that say, "You can't" !
No, My child, I 'll not agree with that!!
I've suffered your reluctance to come unto Me;
I'll never forbid you, Our Kingdom to see.
Do you want to grow up and be an adult;
To know what real living is all about?
You'll still be My child; This will never change;
My Father Heart is forever ordained!
But, as you mature, and walk closer with Me;
You can feed My sheep more responsibly;
with this Firewall of Love that will never flicker,
as you invite them in to our Communion Dinner.
A vacation from strife is where we are bound;
And the voice of peace is the only sound
that will be heard coming from your mouth
as you speak to each storm and end every drought,
that stopped My supply from Heaven to Earth;
Because, My child, you gave My voice birth.