OUR CELEBRATION

Trials have been able to cause our pain
because we've lost "The Celebration";
And justified our ideas instead, rather than believing:
We've been raised from the dead.
"Oh, what is better than leaving this earth...
and going to be with Jesus?"
How about living to glorify Him...
and proving He meant every word that He said?
He doesn't expect you to co-habitat...
with any part of The Lie;
He does expect you to walk in the wholeness...
that Jesus Himself justified.
When you sit down and commune with Him,
you are to remember what His Blood did;
When you take the bread that is His Body,
remember that you are to live...
and fear no thing that The Lie tries to do...
because His Wholeness has been "gifted" to you!
He said, 'I will bless you and make you a blessing...
so you will bless others too.'
But, you have received condemnation from The Liar...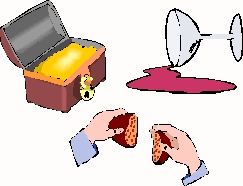 not remembering: My Righteousness is you!
"That" is the thing that turns the attack,
with whatever weapon is formed;
My gift righteousness never loses power;
It's only designed to be worn...
by you and yours but you need reminding,
and that's why I tell you to take...
communion with Me and, as you remember,
you will, in deed, anticipate!
He said many among you are sick and die...
because you are not discerning that I...
literally made the payment to let you in...
to walk with Me in My Kingdom again.
Now, in that place, My Decree's are supreme;
No decay dares challenge The King;
Neither fear nor lack can come thru My Gates;
Do you think, then, that We can anticipate...
the same to be true in My Kingdom within?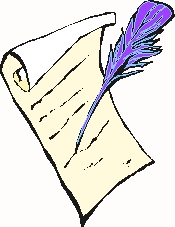 Is that not what He said and recorded by men?
THIS ISN'T A FIGHT THAT YOU HAVE TO FIGHT;
THIS I HAVE ALREADY WON;
THE ONLY REFLECTION THAT YOU ARE TO SEE...
IS "THE LOOKING GLASS" REFLECTION OF ME.
REMEMBER I SAID: THAT GLASS WAS CLOUDED...
WHEN YOU TRIED TO LOOK THRU IT BEFORE?
WELL, IT'S NOT CLOUDED NOW; YOU'RE A NEW CREATION;
LOOK FACE TO FACE AND IGNORE...
ALL LIES THAT SAY YOU CANNOT BELIEVE;
BECAUSE I CAN AND I DID AND YOU WILL RECEIVE:
A FULL CUP FROM ME; THAT IS YOUR DESTINY;
YOUR IMMUNE SYSTEM WAS NAILED TO MY TREE...
AND RAISED TO PERFECTION;
NOW FUNCTIONS LIKE MINE;
THIS IS THE TREASURE MY LOVE WILL FIND!!!
WHATEVER STEPS I SHOW YOU TO TAKE...
ARE SO YOU WILL KNOW YOU CAN ANTICIPATE...
THAT WHOLENESS IS YOUR INHERITANCE;
YOUR FATHER, MY DEAR, IS YOUR DEFENSE!!!
December 10th, 2005
And further:
I CHANGED 'C' TO 'V' SO ALL WOULD KNOW...
YOUR 'V'ICTORY HAS BEEN PLANTED TO GROW.
THERE'S ONLY ONE THING I WANT YOU TO DO:
REST, MY BELOVED, WHILE I AM HEALING YOU.
THESE WITNESSES ARE STANDING SHOULDER TO SHOULDER;
AND WILL NOT LET THE LIAR THROUGH;
MY DECREE, THAT THEY ALL BELIEVE,
IS THAT WHOLENESS IS RESIDENT IN YOU.