THE REAL CLAY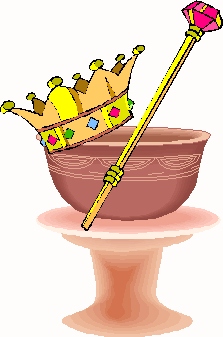 I heard a message, just today,
about how The Potter works with the clay;
About how He molds it and breaks it,
so that it will be...
conformed to the image predestined for me.
Here's the thing I've been wondering about,
so that I won't be deceived,
and fight the wrong fight, exhausting myself,
and diminish what Jesus did for me:
Could The Potter be God Himself, with Jesus being the clay?
Did The Son not empty Himself
and become me, on that set-apart day?
Literally become one that had to be 'molded'...
from the dust that He had created,
in order to rescue, so that I could become,
what, originally, They anticipated?
And then; and then, offer to me,
that kind of Love for my victory?
That eliminates working to try to become...
what was offered to me as a gift;
That stimulates gratitude and gives life unto...
un-earned favor that's been offered by Two;
And, when I accept this, The Two become Three;
As The Holy Spirit comes to dwell in me.
We then stand totally without excuse,
when we realize:
Jesus made us "fit" for our Master's use;
The reason we are justified.
There wasn't a test that He didn't pass
or a battle that He didn't win;
Vessels of honor or, by choice, dishonor,
fashioned with His discipline.
All of this included in His free gift,
where He's entered His Rest to maintain all of this!
Joshua and Caleb, I think, understood...
The Promise of The One at hand;
With 'this' written upon their hearts,
they were "well able to take the land".
Discipline so easily can turn into 'works',
if we don't, as well, understand:
'This' discipline was first from The Son...
with 'that' power that comes from His Hands...
and His Feet and His Side ...and His Very Death,
giving me His re-instatememt that has passed every test!
So, as I'm walking, being "conformed", let this Mind be in me:
My confirmation is a free gift from Jesus;
The proof: Discipline's victory!
Otherwise, I will promote lies
and become completely 'high-minded';
Nothing more than a Pharisee,
thou God The Son became 'formed' like me...
so He could go on and pay my price
And, I have inherited that disciplined life...
to be able to say, whatever the directive:
This challenge, in Him, will be perfected.
He said the fruit can't produce the root;
Is that what we've taught to do?
If that is your action, your satisfaction...
will produce only labor in you.
Yet, you know what He said: If you'll "yoke" with Me,
your "burden" will be "easy and light";
Then He can accomplish what's already completed;
Stop fighting your 'works righteous' fight;
Your only "labor" then will be...
to "enter" His "rest" and His victory!!!
September 25th, 2005