Completionís Road Will Surely Explode
Expectation is so important; Expectations move you;
Expectations will choose or reject, every thing that it views...
to get to the promise, whispered in its ear, even thou a logical plan did appear;
Expectationís a great discerner; Seems to know instinctively:
This is not a part of my make-up, this, thatís been presented to me!
This, I will not let expand; Itís not presented from My Fathers hand!
Expectations ability goes where theĎfaintí dare not tread;
Expectation will accomplish what stimulation has said;
A quite calm or a radical view are characteristicís its life gives to you.
Where does it come from? What is its source?
Itís a vibrant part of the Godhead force...
with many forms and manifestations, its stimulation has taken nations!
Interrupted for a moment but never never stopped;
It knows times of resting and inner-reflection but never the words: Ďcan notí!
Expectation is never defeated; Itís already been raised from the dead;
Expectation knows only life, that its Stimulator has said.
It wonít sit and listen to words without hope;
Situations like this is how itís provoked;
Expectation will stand up and walk away,
if those words donít produce stimulation that day!
Expectation only has a magnified eye, when it views situations that try to deny:
That its force is lacking and not able to see...exactly its outcome of victory!
Defeatís not a word that will ever be heard coming out of its sanctified mouth;
Its visionís beyond a mere twenty-twenty, that stands ready to search out Loveís house!
Effervescence: A word itís familiar with; Many times used as it comes to assist...
The assembling together of the ones over-taken;
Its expectation: Stimulate to awaken...all of the ones that feel cold and dead;
Expectation only sees Ďpaid forí hope instead!!!
Expectationís by nature what first love matured to;
Will never vacate; but engage...
Stimulationís most perfect work: Its purposed perfection:
TO PERSUADE!!!
ďTruly there is an end (completion) and thy expectation shall not be cut offĒ Prov. 23:18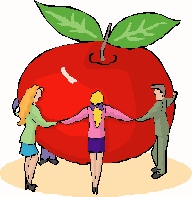 *Further revelation
He keeps saying more about Expectation;
Iíll past this along; This is His revelation:
This Lovers countenance just does not fall;
In time, if there is hesitation;
He comes inside of His First Loveís Bride,
whose name is Ann Ticipation.
What a wonder filled unity:
Ann and Expectancy, One with Me...
In that culmination, which will be birthed,
with exactly the same DNA:
An explosive gene bank of inheritance:
The Eruption that Iíve planned for each day!