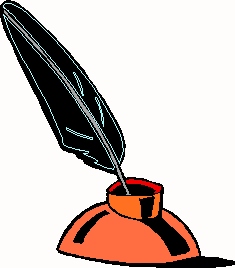 FATHER'S DAY, JUNE 19TH, 2005
FOR HE HATH MADE HIM (TO BE) SIN FOR US, WHO KNEW NO SIN; THAT WE MIGHT BE MADE THE RIGHTEOUSNESS OF GOD IN HIM. II COR.5:21.
I've been wondering about this verse for a good many years;
I looked into the "knew" in the Greek;
It's meaning in Strong's Concordance, number 1097, reads:
allow; be aware (of) and can speak.
I said, Father, if Christ was Sin because He worked...
to create all things...He knew sin;
So did He or didn't He, is my question to You;
He said, Dolores, the key here is, "when".
Then He told me a story, so I'd understand,
which I'll pass along to you;
I hope this will help you; This satisfied me;
To think He'd explain with such clarity!
HE SAID;
A son made some things that a father viewed;
And the father said, "Son, this is good;
Your creations have beauty and purity like you,
just as I thought that they would."
The son said, "Now, I will give all these things to my son,
who I love so much."
But, that son wouldn't receive; His servant told him:
"This is not your inheritance!"...
"When you get older, you'll be on your own,
so you'd best read his manual of knowledge;
Then, you will be better than your dad;
This, in fact, for you, is like college."
His dad was heartbroken, when he saw what had happened;
He and his father talked:
His father said, "Thou your heart was pure,
in that state your son will be lost,"
So, he said to his father, "I'll pay his price;
He's my responsibility."
His father said, "Yes, I'll apply this to you
and we'll establish forever: Our family is free!"
"...SO THEN WITH THE MIND I MYSELF SERVE THE LAW OF GOD;(knowing His truth) BUT WITH THE FLESH THE LAW OF SIN...(believing the lie's whisperings)
(THERE IS) THEREFORE NOW NO CONDEMNATION TO THEM WHICH ARE IN CHRIST JESUS, WHO WALK NOT AFTER THE FLESH, (with the whisperer's thinking) BUT AFTER THE SPIRIT. (now knowing His truth)
FOR THE LAW OF THE SPIRIT OF LIFE IN CHRIST JESUS HATH MADE ME FREE FROM THE LAW OF SIN AND DEATH." ROMANS 7:25 thru ROMANS 8:2.
He was very Christ when He and God talked
and established for you and me...
that forever and ever He'd become that man
and secure our inheritance as free.
He submitted Himself to what we had chosen;
If we'd been there, we'd have done the same;
Our choices right now are proving this;
So, who do you think gets the blame?
What He created; we changed forever;
As well as, the essences of Him;
It's my choices that dictated Love's new definition:
He would call His Creation, SIN.
We wouldn't believe; We wouldn't receive;
Well, He paid for me anyway;
It's up to me if I will apply this;
This, indeed, could be Father's Day!
On His foundation; there are no cracks;
Unanswered questions make you unsure of that;
I can't change His truth and neither can you;
Unless fully persuaded, you won't know what to do.
There's just no good reason to stay in that place;
He said He is here, in our midst;
Are we going to let "the whisperer"refuse...
to let us look into this?
Sunday, June 19th, 2005