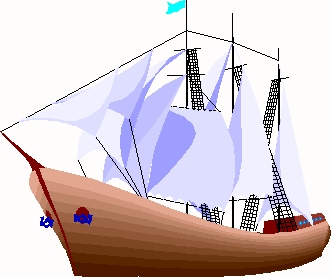 THE VOYAGE CONTINUES
You cannot be tempted, pulled away with lusts,
if you understand His message to us;
First Corinthians Ten, thirteen thru fifteen;
Will be condemning, if His Truth can't be seen.
THERE HATH NO TEMPTATION TAKEN YOU;
BUT SUCH AS IS "MODERATE" TO MAN
BUT, GOD (FULL OF FAITH) WILL NOT (ALLOW) YOU,
TO BE TEMPTED ABOVE WHAT (YOU CAN);
BUT WITH THE TEMPTATION (MADE) A WAY OF ESCAPE,
THAT YOU MAY BE ABLE TO BEAR...
FLEE IDOLATRY; I SPEAK TO WISE MEN;
JUDGE YE (WISE MEN) WHAT I SAY.
This "moderate" that He is speaking of, is:
What He has put into place...
as Jesus the man stood alone against Satan;
That man stood for the whole human race.
The subtle deception planted in that verse...
that "unwise men" will try to make you rehearse:
"Get yourself free another way";
That is the fight; Truth's root suffers decay.
Do you see why He called this "moderate",
or "common", if you prefer:
It's been commonly taught by the "unwise"...
to make you work for what Jesus said:
"Rise, take up your bed; I've paid for Sin";
Your root is no longer dead!
This is the way out that you can bare:
To know that His Branch has "bore" you;
This is the subtlety of The Lie:
It wants you to bare work to do...
What Jesus the man has already done;
So you'll never believe...work to be a son
Read The"Star Date" Lesson, written by a "wise man";
I guarantee, each scripture will expand
and you'll wonder why, you didn't see this before;
There's an order involved that you'd best not ignore.
And, yes, its thru men, that you need to support;
If you stay "unwise", The Lie will abhort...
your life that is precious and was in His loins,
when Jesus the man faced The Lie you've now joined.
I certainly am not prophesying this,
But, I'll tell you what happened to me:
Since I have been reading about these truths,
The Lie screams: These are heresies!
To protect myself, I tried to find
an error in the one that is teaching;
The Truth rocked my boat of complacency,
"I'll make him more wrong with his challenge to me."
The religious way is even worse:
"We'll turn the other cheek and stand on each verse...
that says we should love, thou we don't agree;
We'll continue our great walk of piety."
My question to you: Has your way worked,
or will you make another excuse...
rather than, admit: You're afraid to question...
So you remain in The Lie's abuse?
Then, finally, finally, with what I had asked;
I experienced that He is up to the task;
He began His understanding and, as I walked,
His Truth became more than religious talk.
Well, that's the way it happened to me;
So, don't get discouraged; Hold your destiny!
Always remember the thing that He said:
Your Lighthouse is sure and it's just ahead!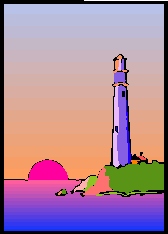 From: "Star Date" www.CovenantMessengers.net lesson #24
June 21st, 2005