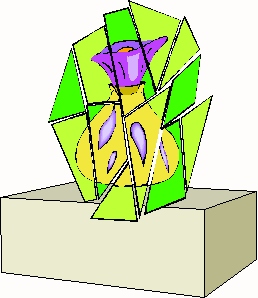 THE ALABASTER BOX
You cannot possibly give to God,
any material thing that He needs;
'That fruit is to abound to your account'...
so that you will be able to receive.
I guess He knew that's where your emphasis is,
(in other words: Your Heart),
you would attempt to 'give to get'
and be defeated before you start.
'The Alabaster Box', may clarify this,
as it represents: Understanding;
This women knew the essence of Jesus,
and that act is still expanding...
every time the real 'good news' is taught,
there is supernaturally released,
this sweet smelling aroma that embalmed Him for death...
so that your life could be conceived.
This happened to me once, many years ago...
right after my husband died;
I was in my livingroom, laying on the floor,
really trying to decide...
If I wanted to leave, in that depth of despair;
it was so heavy it seemed to 'take form'...
That's when Jesus entered the room;
When He did, I could smell the sweetest perfume...
that was accompanied by peace and, at that moment I knew,
He was saying to me: 'I will never leave you.'
The aroma reminded me of Jim;
It smelled of Old Spice Aftershave Lotion...like him!
It's only been recently, I've been able to see...
what she did years ago, was His message to me;
You see, at that time, I hadn't yet been taught...
that His good news is free and cannot be bought.
But, with the response of that woman's understanding,
is there anything too 'expensive'...
that I cannot do, in reality, with what He has completed,
With His essence in me?
We get so busy with our own routine;
Must we wait for tragedy before He can be seen?
Even thou we do; I know that isn't true;
That Alabaster Box, in fact, is you.
Were you not bought with a very great price?
Were you not embalmed with the very same spice?
Is this why, what she did, will always be remembered...
every time the true good news is preached...
because now, this very essence of Him,
is living thru your anointed feet?
I believe that she listened and saw what He saw;
(Like Ezekiel, when he saw the completed Temple);
I believe that she knew this Lamb would transcend...
so we could speak to dead bones and give life to them.
How many days did she work to that end...
to be sure the perfume was ready for Him?
I believe, when He was walking upon this Earth,
and setting us free from The Law,
she took hold of, without any wavering,
and was freed with this Love that she saw.
Her response wasn't: "I have to do this";
She knew full well His sacrifice;
The thing she responded to, with great gratitude, was....
God Himself is giving His Life...
so she could go on and glorify Him...
with the message: His sweet smelling sacrifice...
has been accepted for men;
He was raised from the dead and so are you;
That very 'essence' can be in all that you do.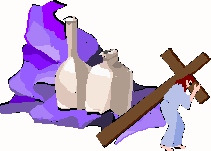 August 12th, 2005