LIBERTY'S CHOICE
My liberty cannot be judged of another man's conscience...
for all things are legal for me;
If, what I'm receiving, to The Lord, I give thanks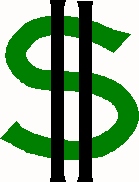 and that 'thing' has expediency...
Never a thought should enter my head,
that this might not be my daily bread;
But, if your liberty will stumble another,
for his sake don't do the thing;
He may be weaker, but he's still your brother:
Jesus 'agape' has come into being!
To eat of the good news, that's perfectly free,
is the 'thing' you want each person to see;
Well, what is then meant by 'expediency'?
Does the 'thing' glorify God, or just satisfy me?
His liberty means:( that is perfect and free;
in this body that no longer belongs to me);
I can walk in that freedom to glorify Him...
Thus, proving fear's weakness can be killed in all men.
My communion, twenty-four seven,
should be with who paid for me;
There is no time for communion with devils,
from which, He has set me free.
I have ever wondered how it would be,
to challenge the "love of money", in me;
I use to think, I wasn't 'controlled'; (I gave so much away);
Yet, I have been thinking, I shouldn't be casual...
about what Jesus had to say:
He said, Love of money is the ROOT OF ALL evil;
So, therefore, it has to be;
It isn't the 'paper' or 'metal' I love;
It's what 'it' can do for me.
Thru the years, I've been subtlety chained,
with what I could justify;
But, the older I get, I have come to conclusions:
I, too, have been trapped in that lie!
Either 'His payment' or 'Money', will meet every need;
So, who will be 'master' today?
So very important, to hear what He's saying...
if I want to walk out of 'my way'.
I would like to go back and live it again;
If you really mean that, today you can win!
My needs are met first, I've heard it said;
What? He can't supply my daily bread?
I'd rather have this to be 'my choice',
before circumstances dictate...
and separate me from the 'thing' that, for so long,
has really dictated my fate.
A million things coming into my head;
This 'familiar way' almost has me dead;
'Don't be an extremist', is one thing I hear;
I would say, if honest, I've 'extremely' suffered fear...
Fear, not to have the comforts you provide;
But, with maintaining your 'comforts' faith seems to subside.
With all of these words, one thing remains clear:
'You can't have two masters in this life, my dear.'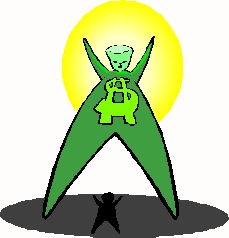 This ugly root has raised its head;
It's time to crush it, is what Jesus said;
Oh, you bruised my heal and trapped me with this...
BUT, without a 'head,' you cannot exist!
In evaluating this, the thing that I hear:
(That monster won't easily give up on fear)
'What if Jesus doesn't meet your needs?'
Well, you certainly haven't; You've only deceived...
and left me with maintenance, to further chain;
(A subtle way to keep me in pain).
You've tried to hide the value of me;
You've tried to keep me from experiencing I'm free;
I should have known, you'd have to deal in wealth;
Automatically, you could then steal all health.
I believe you know, with Jesus in me...
you, too, will have to bow your knee;
I can't serve two masters, so, with action, I choose...
The One that, with action, has decreed that you lose!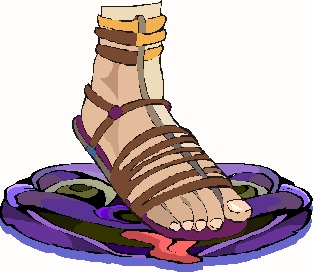 June 29th, 2005