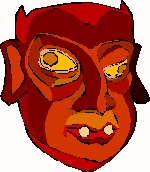 BE AWARE...
By this time, if you're not, you should be aware,
I created this Earth for you;
It was to be your perfect domain, as Our relationship grew.
You listened to a suggestion that came from pride,
from your servant that stepped out of position;
I then, had to remove you from Our Garden...
to protect you from that eternal condition.
All of creation would have blessed you;
Your words carried life for all, and they knew;
They recognized My heir and delighted to be...
involved with you, in your involvement with Me.
I put into action, the rescue of you...
at that moment; that very same day;
I decreed from that time, right up and thru now...
There could be no other way...
but to inherit, perfectly free, and limited all creation,
to your choosing of Me.
Most of the time, this remains the same;
You still don't believe me, so you carry that pain.
Let's get even more specific than this;
You already know what is off;
Let's talk the solution instead of the problem:
Let's talk about who will be boss.
You look down your nose, with your understanding...
of religious "traditions of men";
How many "traditions" have you developed...
that you've put much higher...like them?
You've learned well how to play on your holidays,
that you hold in high esteem;
Do you look forward with half that delight...
when it comes to celebrating Me?
Or is there dread, about getting together,
to hear what I have to say?
Would you much prefer your week-ends your own...
to work or possibly play?
I wanted to prepare you to run this Earth;
You've proven your way doesn't work;
Come out of your "regrets" and into "repentance"...
which means: In your "doings" ... let Me be birthed.
How do you do that? Un-attach yourself...
from the system that governs you;
You are the one that is furthering this...
by justifying all that you do.
You say you love Me; You just work Me in;
And We both know that this is true;
Then you complain that I don't keep My Word,
in all that I promised to do.
The offer that deceived you, that day in My Garden,
is coming to take his stand;
It's subtlety worked, up to this point,
with his mark on your forehead and hand.
BUT, I have a mark that will make him step back...
as soon as you decide the value of that;
He will demand, in order to ear; in order to buy and sell,
and you won't have a choice but to do things his way...
as, up to now, you're not faring so well.
"Well, it's not my fault; I've been really trying."
With a million interruptions, you've been justifying?
If you won't view what you're doing right now...today,
you will be one of the ones...
when strong delusion is poured on to this Earth,
that won't even know to run.
Decide, right now, for your destiny;
Make sure it's My Mark that deceiver will see!
That way of deception, I've already cursed;
I Decreed: I would crush his head;
I've blessed Our way of "greater things";
Will you choose My Imprint, instead?
What a way of great peace this will be;
Sudden destruction won't come near your door;
His system that controlled you with "love of money",
your "inherited trust" will ignore!
No more maintenance and carrying of "things",
Leave it all behind;
Drink of My Rock of continual springs...
with security all of the time.
You will speak as you did, once before, long ago,
and give life to all things, so that they will grow;
No thing again can be stolen from you;
They are held "in trust", 'till you speak to them too!
He tried his best to sell his way to Jesus...
that day of his total defeat;
It didn't work then; Will you let it work now...
or crush his headship with sanctified feet?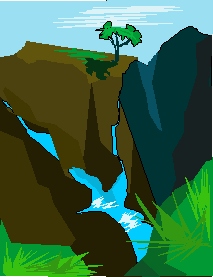 July 1st, 2005
He spoke this to me
before I read "The Kingdom Within" lesson #24 at www.CovenantMessengers.net