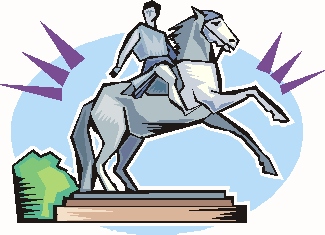 DEATH HAS LEFT THE PREMISES!!!
Let's let The Holy Spirit do His job...
and walk thru the midst of the angry crowd!
Do you realize, that's how it will be,
as you are completing His destiny?
To "fill up the things that are behind",
isn't some kind of payment that you have to find;
His payment was sufficient and IT IS COMPLETE!!!
He's waiting for you to start moving your feet...
To complete the part where "He closed the book",
and get on with the job that He undertook:
To comfort all of those that mourn...
that Satan's wrath has ripped and torn...
To tell them they are righteous and planted by Him;
Wipe away the ashes; Bring His joy to all men!
To tell them of the feast that we will have;
That The Lion of Judah is close at hand...
And, they will repair every broken wall;
That His portion for them is double;
Vengeance will be taken on everyone...
that has caused them this sorrow and trouble!
Check it out in Luke, Chapter Four and Isaiah, Sixty-One;
These are the things that are waiting for you:
Inheritance from a Father to His sons.
Righteousness and praise will spring forth..
as you walk with Him and complete your course.
The kingdoms of this World have begun their collapse;
What's prepared for you is Decreed to last;
So, let's lay aside every weight that hinders;
You have chosen The Great Defender...
to speak with The King's authority
and walk in the kingship He prepared you to be!!!
Can you see why there are sooo many other detractions?
Your enemy fears Jesus satisfaction;
Now, what satisfaction could this possibly be...
"Greater things than these", completes His victory.
You think, "I can't do this. It's just too big!"
(and with your power, you'd be right)
BUT, responding to His ability...
makes you "more than" equipped for this fight.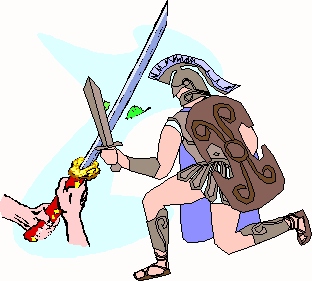 The one you've been fighting, up to this point,
is your false humility;
When you bow your knee and pick up His Sword:
The king that you are will be freed!
Then, when Satan tries his 'frontal attack',
as a 'first responder', you won't suffer that!
The knee that you bowed to the King of kings,
will have automatic reaction to every 'thing'!!!
A righteous indignation will quickly rise,
because your Liege has been challenged with those kind of lies!
With this kind of knowledge, you're on the front-line;
The enemy, Death, can't deal with your kind...
and all of the things you use to fear, vacate the premises:
JESUS HEIR IS HERE!!!
May 24th, 2005