RIGHT NEXT TO YOUR HAND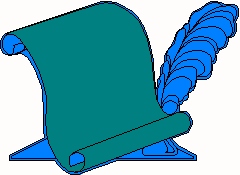 Well, my love, is your love showing?
I thought, Yes, as Iíve watched you growing!
Is He doing abundantly above...
all that you ask or think?
Is your pasture green or brown?
Do you expect to stand or sink?
Iíve heard it said, ďThe ram is movingĒ;
and I know, of course, what is meant;
Yet, my love, I want to remind you,
and donít you ever forget, Jesus was and is that Ram,
that completed you.... if you would...and you can!!!
So, letís go on with whateverís at hand
and He will perfect what is lacking;
You must move and apply what Heís said;
Youíll experience the sure fact: Heís raised you from the dead!
Then, as you walk, youíre allowing Him,
to give you your wholeness in the sight of all men;
Donít think it strange when you start effervescing;
You cannot restrain this kind of a blessing.
It has to run over and completely surround,
to effect one another on that fertile ground!
A faithful messenger has sounded My Trumpet,
to prepare for The Ramís return;
Donít allow this to make you angry and hide;
But, rather, let your concern...
be involved with all that you do;
So, upon My return Iíll be finding you:
Not burying The Treasure of Me inside;
That would say: For you, Iím not crucified!!!
I will not agree with ďthe likes of thisĒ;
Iím persuaded of better things;
Where you are concerned, I can only see:
Gratitude responding for your victory!!!
Perhaps, your experiences have not been defined
and open in front of Him;
Have you set your jaw to try to defend...
That your way has been right? Thus, offences begin.
The offences; your actions have clearly said:
Iíll be my own lord... Thus, keeping Me dead!
You know better than to challenge or hide,
whichever the case may be;
You also know youíre not justified
when you try to be lord of Me!!!
Donít try to pervert the word that youíve heard,
by saying: ďI donít understand.Ē
It must have struck some kind of a cord,
to look for an error in the man...
That said this to you, in the hope you would do...
Yet, your accuser stands close at your hand!!!
Oh, my friend, I so want you to be...
standing fast in the liberty,
that Jesus paid for to make you free!!!
April 27th, 2005