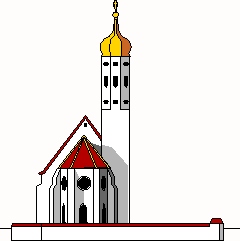 THE CHURCH OF OPINIONS
The Church of Opinions have taken dominion;
A striking edifice,
that continually exhorts and demands your support,
with promises that get you to invest!!!
Where did this grotesque structure begin?
I suspect it's been nursed from the garden in Eden.
Jesus came to this Earth to complete its destruction;
But, opinionated leaders, promoted added construction!
Jesus very clearly stated His Way,
but the men of opinion had much more to say...
That held in bondage, the hearts of men,
because working for reward appealed to them.
So cleverly put, with quotes from His Word,
its supporters don't question the things that they've heard...
because they have invested their labor and sweat;
There's no time to ask, why this hasn't worked yet!
Some attend to keep conscience free;
Opinion's blindness...Now no one can see!
I heard this likened the other day, to a pyramid, upside down;
A very good likeness, that has deceived:
Its point won't stand up on its ground.
This thing has grown at an abnormal rate,
that made the top wider, for money' sake.
But, where will you be when this edifice falls?
Because, if it fall on you, it will grind you to powder,
with its reverse teaching...that appeals to all that you do!
You can say, "Well, I know the truth;
My 'pyramid' s 'upside' right!"
What Kingdom have you been investing in...
The one Jesus said is Light?
Or, is the kingdom that you represent,
the one your opinions made convenient?
And, is there ever a convenient time
to not busy yourself in your search to find?
Is there ever really a convenient time
to not do what Jesus has said?
Maybe, the fact that you are your own lord,
is why you're so easily led.
Your very actions are saying that you...
can only believe the things that you do;
Automatically, another block...
on your pyramid, that's so heavy on top!
That structure is huge but, regardless of that,
your choice of lordship can flip it right back...
To have its foundation on your Lord's solid ground;
He will take your creation and turn it around!!!
Either you are the builder or The Builder is Him;
Only your choice can let Him begin;
It's Him that will put the block in your hand;
He's already told you: It will expand!
If nothing else, common sense should tell you:
If you present what your sweat has produced,
that act in itself puts you in competition
and you can only lose!
That makes you a worker of iniquity;
His order to you: Depart from Me!
Because, your opinion of a better way,
has said, Emphatically, No, to what His Son has paid.
If you'll make Him your Lord, with accompanying actions;
He will separate you from opinions
that have had, up to now, great satisfaction...
In tormenting the life that He purposed to give
every heart's desire for you to walk out and live!!!
April 26th, 2005